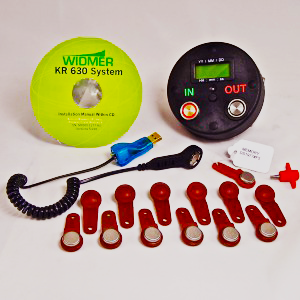 Widmer 630 KR iButton® Time Recorder Features:
1. Employs low cost DS1990A-F5 iButtons as employee IDs with a 10 year life or 1,000,000 recordings.
2. Extra Heavy Duty operation, special for environments such as construction sites, outdoor jobs, etc.
3. Works impeccably where fingerprint terminals fail to operate due to harsh conditions, where grease,
dust, grime, extreme temperature changes, humidity, corrosive vapors and power failures are present!
4. Easy installation with only 4 screws. Casing is closed - sealed with 4 Torx® Security Screws.
5. 20% Glass Reinforced Polycarbonate Casing.
6. Operates with 4 AAA batteries. Battery Life 160,000 Recordings or 1 year.
7. Keeps the correct time and date for 10 years (even in the absence of power!), thanks to its self powered iButton® Real Time Clock.
8. Non volatile memory (NVO RAM) safeguards employee punches in the absence of power. Memorycapacity 4080 punches.
9. Downloads employee punches to PC via a portable DS1977 iButton® memory.
10. Employs a DS9490R High Speed USB bridge and a DS1402-RP3+ easy to use cable for downloading to the PC.
11. 10 function easy to use one touch menu, via the IN /OUT head probes.
12. Easy Date & Time Setup, plus Daylight Savings programming.
13. Signaling Buzzer and Dual Color LED.

System Requirements:
XP, Vista, Windows 7, Windows 8 and Windows 8.1
Will run both on 32 or 64 bytes
At least 2 gigabytes of RAM memory required
Software Features
• Easy to read—User Friendly
• Unlimited number of Employees— Multiple Shifts
• Weekly, Bi-weekly, Semi-monthly, Monthly Payroll Periods and Uneven Pay Periods
• 24 Hour format enhances calculation speeds and reduces support cost caused by user errors
• English or Spanish language format
• Configurable Reports: Hours Summary, Time Cards, Exceptions, Employee's Clock Rules and "Who's In, Who's Out"
• Export Reports to Excel, Word or as PDF. Quick Books & other databases coming soon.
• Unique Data Manager, Automatic Customer Database Organizer
• On-Screen Help and Printable User's Manual