VIE0203, 6V, 1.2 AH Rechargeable Battery, each

fits DWA-S Sonachron, LTR-0, LTR2-384, LTR4-384, LTR6-384 Master Controllers
$35.00
LTR4-512 Master Signal Control, 4 circuits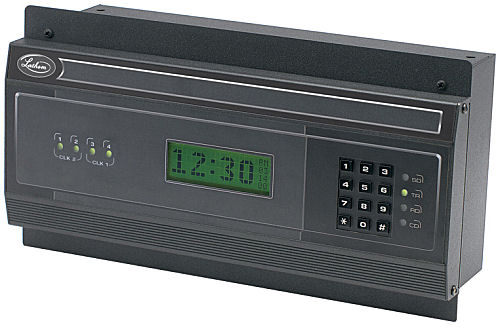 from the LATHEM website...
Lathem Master Controls are ideal for schools, hospitals, airports and industry.
With Lathem's wall clocks, the Master Control series can improve attendance, organize schedules and increase efficiency. The system can be programmed, via keypad, with eight password-protected bell schedules, which may be used in combinations; each capable of executing 64 multi-function "events" (512 aggregate). There are two models, LTR4 (4 circuits) and LTR8 (8 circuits).
It can store schedules and controls from any RS232 / RS485 connected computer running Lathem's MasterLink Software, or can be accessed and diagnosed remotely, via modem (Model LTR8-512M).
The LTR Series controls virtually any type of secondary clock system. Lathem manufactures both synchronous and minute impulse secondary wall clocks in a variety of shapes, sizes and clock dial types.

Features:
Keypad and text/menu display allows convenient programming changes to schedules.
Dual password level grant appropriate control to installer/administrators and general users.
Eight 64-event schedules can be activated individually, or in groups, allowing for up to 512 active events.
Multi-function events each include the day(s) of the week, the effected circuit(s), the time and duration of the event.
Special schedules for holidays and automatic schedule changes programmed in advance of their activation dates.
Automatic Daylight Savings Time adjustments, supporting international requirements.
Available with surface, semi-flush, and 19" rack mount hardware, and capable of drop-ceiling/raised floor installation with optional cable.
Schedules and timekeeping functions are retained during power failures; proprietary algorithms allow for rapid, automatic clock recovery.
MasterLink desktop/laptop computer management software
One year warranty
$729.00
vs.
$895.00
List
VIE0203, 6V, 1.2 AH Rechargeable Battery, each

fits DWA-S Sonachron, LTR-0, LTR2-384, LTR4-384, LTR6-384 Master Controllers
$35.00