Free ground shipping on system orders in continental USA
(for orders placed and paid through this website)

All other products incur shipping charges.

No returns accepted on systems. All systems sold as Do-It-Yourself installations.
Warranty issues are handled by the manufacturer.
Support Agreements and Extended Warranties are highly recommended !

Don't need Access Control or RFID badge capability?
Check out the less expensive FR650 here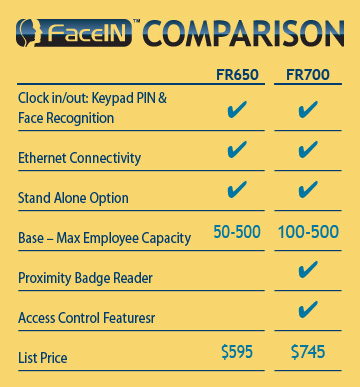 from the LATHEM website...
The Future Is Here!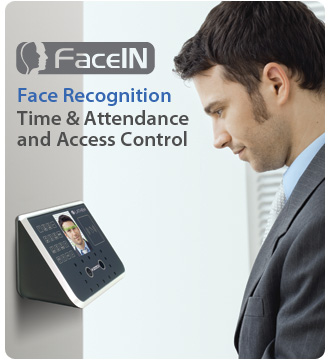 Lathem introduces the FR700 Face Recognition System

Simply Look and Go!

The FR700 (FaceIN) is a complete time, attendance and access control system using face recognition technology to instantly identify employees. It provides a touch-less, hygienic alternative to fingerprint readers, while still eliminating "buddy punching" and the need for cards and badges. Employees simply look at the clock and within seconds they are identified and clocked in for work.

The FR700 uses a standard Ethernet connection to your existing computer network. The FR700 also includes a built-in dry contact relay for optional secure access control. The system includes powerful desktop software for editing, running reports and exporting to most popular payroll software including QuickBooks.


Overview:
The FR700 has many features and specifications that make it the most reliable and well-designed biometric device available.
Patented "incline design" to optimally capture the geography of a human face and ensure accurate measurement
A dual camera system performs a 3-D facial analysis
Versatile configuration and application
Networked
Stand Alone (with Flash Drive data portability)
Access Control
Verification options
Face, Badge, PIN & Face, Badge (with photo image taken from unit)

Features:
Uses fool proof face recognition technology to instantly identify employees.
Provides contactless hygienic alternative to fingerprint readers
Eliminates "buddy punching" and the need for cards and badges.
Uses a standard Ethernet connection to your existing computer network.
Supports 100 employees but can be easily expanded to up to 500 per device.
Includes a built-in dry contact relay for optional physical access control.
Includes PayClock software for editing, running reports and exporting to most popular payroll software including QuickBooks.
12-month warranty

Specifications:
Installation Method: Wall Mount
Power: 12V DC, Working Current: 500 mA
Verification Speed: Less than 1 second
Record Capacity: 150,000 Time Records
Keypad: 4 x 4 Touch Sensitive (Capacitive) Keypad
Display: 3.5 inch TFT color LCD, 65,000 colors, 320 x 240 resolution
Environment Light: 0-5000Lux
Working Distance: 1 - 2.5 feet
Working Temperature: 0°C - 40°C
Working Humidity: 20% - 80%
Size: 7.25"L x 3.5"W x 5.25"H
Weight: 1.15lb.
Installation Method: Wall Mounting
Image Capacity: 70,000 Images
Security Image Capacity: 4GB SD Card
Card Recognition: Lathem proximity badge
Security Alarm: Tamper Alarm
Output for Access Control System: Standard Wiegand 26/34 output, Built-in relay

Requirements:
Microsoft Windows 7.
Microsoft Windows 2008 Server.
Microsoft Windows Vista 32-bit and 64-Bit.
Microsoft Windows XP Home/Professional Service Pack 2 or higher.
Microsoft Windows Standard & Enterprise Server 2003 (Optional. Must be installed from Add/Remove Programs)
Microsoft .NET Framework 3.5 (installed automatically if not present on the computer.)
Customer registration and acceptance of the license agreement is required.
A PC with a 500 MHz Pentium processor or better (1GHz Pentium processor Recommended)
512 MB of RAM (1 GB Recommended)
Network Adaptor configured for TCP/IP.
Hard disk with at least 200 MB of free space (500 MB Recommended)
256 Color 800x600 or higher resolution display
Mouse or other pointing device
Internet Explorer 6.0 or Higher
4x CD-ROM or better
Hi-Speed Internet Connection (for Online Features/Services)
A dedicated server is recommended for multi-user Systems

Price Each

FR700-KIT, FaceIN Time System w/ PayClock v6 Software 100 employee, 1 user, each
includes:
PayClock v6 Software CD-ROM
FR700 Facial Recognition Terminal
Ethernet Cable
Printed User Guide
All Mounting Hardware

$649.00
vs.
$745.00
List

---

---

---

FR700 Terminal Only, Ethernet, 500 employee per device, each
includes:
FR700 Facial Recognition Terminal
Ethernet Cable
Printed User Guide
All Mounting Hardware

$649.00
vs.
$745.00
List

---

---

---

PCW-M
Upgrade to Multi-User, 10 Max. Concurrent Users (Unlock Code)
$249.00
PCW-100EE
Upgrade to 100 employees (Unlock Code)
$200.00
PCW-150EE
Upgrade to 150 employees (Unlock Code)
$400.00
PCW-250EE
Upgrade to 250 employees (Unlock Code)
$600.00
PCW-500EE
Upgrade to 500 employees (Unlock Code)
$1500.00
PCW-1000EE
Upgrade to 1000 employees (Unlock Code)
$3000.00

---

---

---

PCWFR7-UP
PayClock Software Upgrade to latest version
$199.00

---

---

---

RFID Badges, pack of 15, each

$42.00
vs.
$45.00
List

---

---

---

RFID, BULK PURCHASE, 10+ packs of 15, each

$38.00
vs.
$45.00
List

---

---

---

RFID Key Fobs, pack of 5, each
$30.00

from the Lathem website...

This package of 5 key fob badges is a perfect addition to any FR700 system. These badge replacements allow employees to attach a small device to their keys which reduces the chances that they are lost or forgotten at home. If they drive, the employee can't come to work without their badge. These key fobs work exactly like the badges and have the badge number printed on them for easy entry into the software.

---

---

---

Badge Reels, pack of 5, each
$20.00

---

---

---

SAF701
Support for FR700 System, hardware & software, purchased within first 30 days
$199.00
Direct from Lathem
1-800-241-4990
SAF701
Support for FR700 System, hardware & software, purchased after 30 days
$298.00
Direct from Lathem
1-800-241-4990
SAF701
Support for FR700 System, hardware & software, purchased after 1 year
$398.00
Direct from Lathem
1-800-241-4990

---

---

---

SAF702
Support for FR700 Terminal ONLY, purchased within first 30 days
$189.00
Direct from Lathem
1-800-241-4990

---

---

---

SAMU01
Support for V6 Multi User Add-On, purchased within first 30 days
$100.00
Direct from Lathem
1-800-241-4990

Horizontal 12-capacity Badge Rack

from the LATHEM website...

This badge rack is a recommended accessory for any PayClock Time and Attendance system. Many companies use two badge racks with one on each side of the terminal. As employees clock in, they move their badge from the "out" rack to the "in" rack... an effective way for supervisors to determine who is on-site.

Designed for longevity, all racks are constructed of heavy duty steel and then powder-coated charcoal GRAY to prevent corrosion. Mounting hardware and badge slot numbers are included to help you get the most out of your badge rack.

$24.00