800P Thermal Print Time Recorder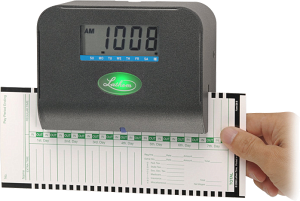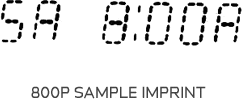 from the LATHEM website:
Patented Thermal Print Technology with Tru-Align

The 800P features patented library-quiet, thermal printing which means no ribbons or ink are needed! It's compact, clean and provides an amazingly crisp time registration.

Lathem's patent-pending Tru-Align feature provides visual and audio alignment indication and automatically triggers an imprint when a time card is properly
inserted. This ensures that the imprint only occurs within the boundaries of the card's print cell for legible and easy to read attendance records.

The "Steel Tough" enclosure provides durable and maintenance-free operation, with no ink pad to fill or ribbon to replace.

The 800P requires the use of Lathem's E8 thermal time cards (25 included).

FEATURES

Direct thermal print eliminates ribbons and ink
Automatic True-Align eliminates misprinting
Whisper-Print technology offers quiet punches
Prints day of week and time (AM/PM or 24 hour)
Minutes can be printed in hundredths of an hour to simplify
tallies
Keeps time & settings during power loss
Automatic Daylight Saving Time change
Day-of-week can be printed in English, Spanish or French
Table top or wall mount option (Wall bracket included)
Includes 25 E8 time cards
Made in USA
One year warranty

SPECIFICATIONS

Dimensions: 5 1/3 "H x 6"W x 3"D
13.5cm H x 15.2cm W x 7.6cm D
Weight: 5.0 lbs (2.3 kg)
Display: LCD
Housing: Electro-Galvanized Steel with Powder-Paint Coating
Power: 100-240 VAC, 50/60Hz, 80mA
Memory: BR2325 Coin-Cell Lithium Battery
(change the battery every 7 years-recommendation)
Environment: 32º to 140º F (0º to 60º C)
95% Relative Humidity (non-condensing)
Timecard Storage: 150º F (65ºC) maximum temperature
Note: The E8-B timecards are sensitive to temperature and
should always be stored in a cool dry location; preferably out
of exposure to direct sun light. Storage temperature should
not exceed 150ºF (65ºC).


$249.00
vs.
$299.00
List
25 Capacity Card Rack, 9 inch time card, Black, Plastic, Expanding
pocket size is 4 1/16 inch width and 7 9/16 inch deep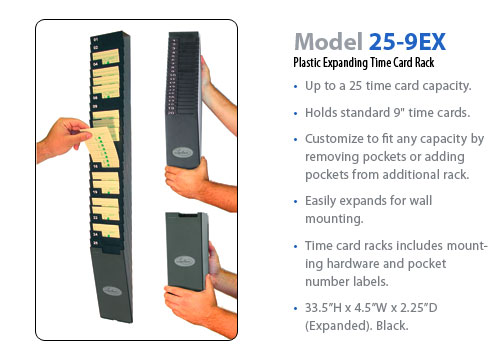 $33.00
vs.
$38.00
List